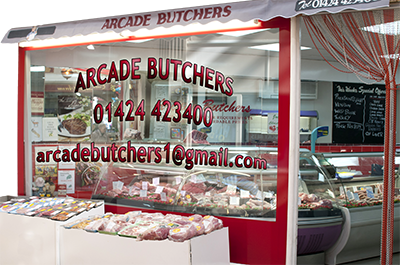 Freshly cut joints and chops or steaks cut as you require to your specifications of quantity and quality.
Our shop is well known for sourcing locally fed and reared meat products - notably rare breeds beef, lamb and pork, from these, Arcade Butchers create a vast range of hand-crafted products – from award-winning sausages, burgers, home-cured and smoked bacons and hams, through to succulent roasts and mouth-watering steaks, along with British birds of a feather, many free-range, and a full range of game.
Arcade Butchers' aim is to buy the very best local meat possible from local farmers and suppliers, and to keep it, prepare it, mature it and sell it at the best standards and at the right price.
In turn, customers can rest assured in the knowledge that we are purchasing locally sourced meat with consistent quality guaranteed and with the highest animal welfare standards assured through the entire process.
We have a mouth-watering choice of Beef, Pork and Poultry products to choose from, including all the normal cuts you'd expect from your butcher our more traditional meats are just as succulent, tender and flavoursome as our Exotic Meats.