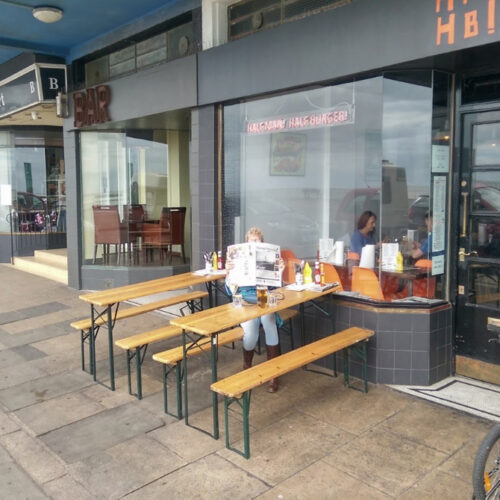 Welcome, one and all, to Half Man! Half Burger!
Since July 2015 we have been Hastings / St Leonard's first dedicated, fully licensed Burger restaurant. Eighteen months later in December 2016 we opened our second site in Eastbourne. Slowly, and with the right degree of mellowness and righteousness, plans are taking shape for a third Half Man! Half Burger!...
We honed our craft waaaay back in 2013 in various pop-up restaurants and street food events in Brighton. From that we graduated to rocking our burgers on the UK festival circuit including Glastonbury Festival and Sonisphere. On that note, thanks to everyone who helped us smash it at GLASTONBURY 2016, 2017 & 2019. See you by The John Peel Stage in 2020!
This frantic dedication led to the opening our first permanent home at the art-deco tastic Marine Court in St Leonard's-on-Sea. In our eyes St Leonard's and Hastings really needed a dedicated burger joint where we would enjoy eating and drinking. We figured if we did, others would join us. We opened to a long queue around the building, and not much has changed since. We were (and still are) blown away by the reception our burger dream has had.
The same outlook brought us to Eastbourne in 2016, we already had people visiting regularly so being there was a no-brainer. As soon as we opened the door in Eastbourne it was obvious we did the right thing. In Eastbourne we set up on Grove Road, next to vinyl record shops, small theatres, comic stores and indie coffee shops. The Sunday Times named it one of the Coolest Places to Live in 2018, describing Grove Road as 'the next wave of coastal cool'.
In 2019 we started our on-going monthly pop-up in Brighton at UnBarred Brewery & Taproom. We are always on the lookout for the perfect Brighton site to take our brand home - watch this space!
Our mission was inspired by many pilgrimages to authentic American burger joints where we soaked up the vibes and the food. Half Man! Half Burger! are here to offer a fresh & local burger experience, obsessed with delivering the tastiest burgers possible. Our mission is simple: to create perfect hamburgers, fries and sides every time, using only the best ingredients. We believe food and drink should served up in a laid-back environment with a smile, whilst playing some decent rock n'roll (and the occasional bit of proper old-school Metal) at the same time. We took several trips to the then-burgeoning street-food/indie restaurant scene in Brooklyn, New York to help inspire the layout and decor. We wanted to bring sharp minimal design and Americana together, with our love of good music running throughout.
Integrity and hard work are the lifeblood of our kitchens, and we aim to keep it that way. Wherever you eat, if you choose to dine in with us, or takeaway, our promise of real fresh food is what makes it taste so damn good. This stuff ain't easy!
We believe passionately in providing more quality, more consistency and - most of all - more taste. The Half Man! Half Burger! experience aims to deliver this with every burger - every time.
We realised another dream when we collaborated with Brewing Brothers micro-brewhouse to create our own beer - Half Man! Half Brother! Now the biggest selling beer at our sites. Whatever your take on burgers, we like to turn up the music, ramp up the quality of service and food, all the while making burger dreams come true every single day!