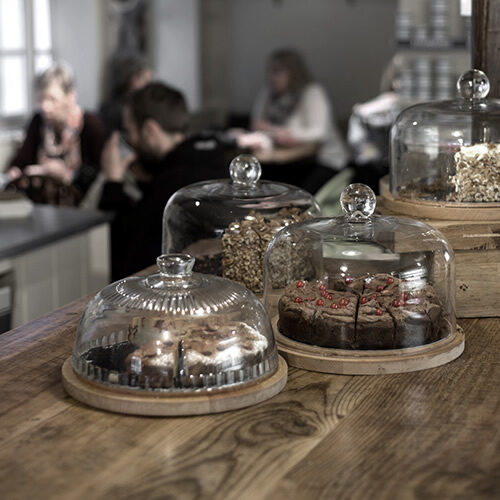 Range of sourdoughs, gluten free, rye, ciabatta etc. Organic breads using Shipton Mill flours. Some groceries.
Judges Bakery is situated in the heart of Hastings historic old town. It has a proud reputation of serving generations of families and fishermen since 1826.
Our shop has an extensive range of local & Organic produce and the best selection of Organic wines and Beer in Hastings. On the shelves you can find our handmade Museli and Granola, Hastings honey and our jams and marmalades.
BREAD
NO ADDITIVES
We only use the best Organic flour, milled by Shipton Mill where their flour has been stone-ground since the Doomsday book.
Sea salt, filtered water and quality organic ingredients ensure that the bread you eat is of the highest quality. All our loaves are suitable for Vegetarians and Vegans and our Gluten free bread is exceptional!
CAKES
SPOIL YOURSELF
Our reputation for brownies shows no sign of slowing and you will always find a few of the following to spoil yourself with...Lime & sea-salt, Blackcurrant & Cassis Cheesecake, Raspberry & White Chocolate, Peanut Butter or try the original brownie all made with English Butter and 70% Belgian Chocolate.
PASTRIES
All our pastries are handmade in the bakery, situated just at the rear of the shop, and baked throughout the day to ensure they are fresh and tasty.
Cider & Apple, Cajun, Black pudding and Red Onion Relish are some of our most popular sausage rolls.
Also in the summer we bake our famous Mack-a-Rolls; puff pastry filled with local smoked mackerel.
At the rear of the shop is where everything happens! Our bakers work seven days a week to fill the shop with the aromas of freshly baked bread, cakes and savoury pastries. Just like our bread, our cakes and pastries embody the judges food ethic: Fresh, seasonal, organic and (as much as possible) locally sourced. Everything is made from scratch, using the highest quality ingredients available. Inspired by a range of local and international influences, we strive for creativity and variety in our daily menu. Examples on offer daily include: Apricot & Almond buns, Chocolate Rye and Sea salt cookies, local Smoked Mackerel Quiches, Roasted Cocoa Cookies, Oat Orange and ginger Cookies, Rose & Pistachio meringues, Roasted Garlic and Onion swirls, Raspberry & Blueberry tarts, Garlic, fennel and Parmesan Sausage Rolls and always on the shelf are our famous Lime & Sea salt brownies.
Our tea room serves leaf tea & the best Italian Coffee in town. With an ever changing menu of cakes from handmade New York Cheesecakes to traditional Coffee & Walnut cake with candied walnuts.
We are forever changing our menu in the shop so please don't be disappointed if your favourite is not available, as we do like to bake with the seasons. To keep life interesting we always have a daily special, these are some of our favourites: Black pudding scotch eggs, Chocolate, Rye and Sea salt cookies, local smoked mackerel quiches, Cheese & ale sourdough and Beetroot & Goats cheese sourdough.