Our latest and exciting project is the creation of a mosaic at the front of St Leonards Warrior Square station, entirely designed and crafted by the community. (Ilustration not actual design!)
Making sessions will take place between 12 -19 July 2019 at Zoom Arts by St Leonards Warrior Square Station. Session times as follows:
Fri 12 July 2.30 – 4.30 pm
Sat 13 July 1.00 – 4.00 pm
Sun 14 July 10.00 – 12.30 pm and 1.30 – 4.00 pm
Mon 15 July 2.30 – 4.30 pm
Tues 16 July 1.30 – 4.00 pm
Wed 17 July 2.30 – 4.30 pm
Thurs 18 July 2.30 – 4.30 pm
Fri 19 July 10.00 – 12.30pm and 1.30 – 4.00pm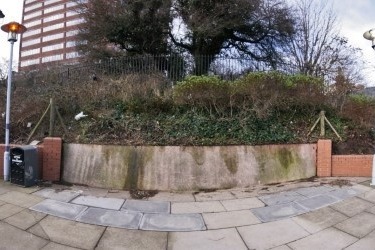 This activity will benefit the community in the following ways:
• Improve the visual appeal of the area outside the station
• Promote pride in the area and therefore keeping the area safe and clean
• Help to improve interpersonal skills & reduce isolation by engaging in the project
• Encourage self-confidence and belief in what can be achieved.
We have engaged Emma Harding, a well established mosaic maker. She will run workshops involving Seaview Wellbeing Centre, Gizmo DIY Theatre Company and the general public to help design and complete the mosaic.
We have the wholehearted approval of Southeastern Train Company and conducted a street survey with the local community and immediate neighbourhood, and an online survey, with a unanimous response that it would be a positive addition to the area. We aim to have it completed by summer 2019.
We would like to thank our funders:

Tescos Bags of Help, The Coop Community Fund, Trinity Wholefoods, Our Go Fund Me Crowdfunder and additional funds from the local community!