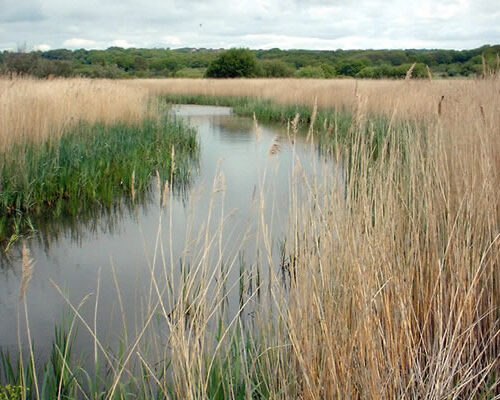 A large reedbed with ditches and lagoons, set in a river valley floodplain
One of the largest reedbeds in Sussex, Filsham Reedbed sits at the southern end of the Combe Haven Valley, the green space between Bexhill and Hastings. The valley contains a range of wetland habitats and is an important resource for water and flood storage. Much of the valley is grazing marsh, but reed, reed-fen, and swamp communities are all present as well as areas of ancient woodland. This variety of habitats in turn supports a wide range of plant, invertebrate and bird life.
Owned by Hastings Borough Council and designated a Local Nature Reserve by them, Filsham Reedbed has been managed by Sussex Wildlife Trust since the mid 1970s. It is also a Site of Special Scientific Interest, along with the rest of the valley, designated for the range of habitats it supports, in particular the alluvial meadows and fen, but also for the dragonfly fauna and bird assemblage. The reedbed would originally have been grazing meadows as is still present further up the valley. However, with the cessation of grazing, reed already present within the ditches was allowed to spread and the reedbed we see today developed quite naturally in just a few decades. Today we maintain this balance of habitats to provide optimum conditions for a wide range of species.