Along with Surfs Against Sewage we're establishing a Refill scheme in the Hastings area. We're asking venues, cafes, bars, restaurants etc if they will agree to refill water bottles for free in an aim to reduce the amount of single use plastic being used.
The Refill Scheme is taking the country by storm! Refill recently won Gold at the Global Good Awards for 'Best Environmental Behaviour Change'. There are now over 1600 Refill stations across the country and that number is set to rise steeply as London joins the movement with the support of Thames Water and London Mayor Sadiq Khan. Refill now have a new promotional video which had 150,000 views on Facebook in its first few days.
Refill Hastings now has 23 stations signed up and we will continue to sign up more. We are now receiving support from a newly appointed regional coordinator who is helping us with the formalities and a promotional plan.
We've j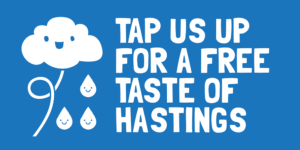 ust set up a Refill Hastings Facebook Page  so do give us a like!
Don't forget to download the Refill App to find all refill stations or to add one yourself! If you want to sign a venue up to the scheme do let us know and we'll give you a sticker for the window and the necessary info.
Please follow and like us: